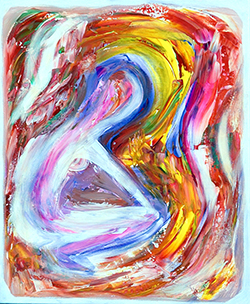 Artist statement:
Since 1978 I have been painting serious pieces. My work is contemporary, eclectic and generally takes two distinct forms: abstract and also, what I refer to as, neo-abstract expressionism.  I am often two minded about most subjects and will reflect a different artistic viewpoint in a highly abstract manner and also an expressive and modernist style.
In 1980 I became devoted to working on large canvas pieces that could enable multi-dimensional frameworks, drawing in the observer, rather than being viewed from outside.
I like to think of my abstract works as reflective to an observer's ideas and emotions, while the expressive work is usually brightly coloured and offers an optimistic view of the subject, yet sometimes these bright colours can take on a different meaning entirely.
Most of my works are inspired from hypnagogic states I often experience (The hypnagogic experience occurs between being awake and asleep,) and take non-conventional forms that are designed to challenge artistic symbols and archetypes.
I usually chose a theme, gender, politics, art, beauty, cosmology or other general areas and improvise the vision while painting, allowing the work and my vision to mould into its own form, it is this symbiosis that releases those hypnagogic images in an almost unconscious fashion.
I see great inspiration in the physical nature of our existence, but embrace the quantum ideology that observing my work, whilst creating it, I'm in a sense bringing it into existence, yet its final form is unknown to me until I observe the completed work.
Image: Estelle Asmodelle, Reflective 2016. Acrylic on canvas (50 x 65cm)
Price: $930 – to purchase original artwork click here! To purchase an A3 giclée archival print, click here!
The winner of the inaugural Queer Art Prize Australia was announced on Friday 13 January 2017. An exhibition of finalists is currently on show at Chapel Off Chapel until Sunday 5 February 2017. For more information, visit: www.queerartprize.com.au for details.
Queer Art Prize Australia (QAPA) is an initiative of the Australian Pride Network – ABN: 52 551 990 041
Copyright © 2017 Australian Pride Network