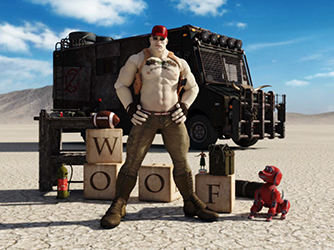 Artist statement:
I got a Barbie, but what I really wanted was GI Joe.
As a young girl, I experienced the joy of Barbie and other assorted feminine toys…
That was until I witnessed GI Joe in his exaggerated ball jointed form. Over time fetishistic, uniformed strong men became an influence in my work.
Using software such as Poser, Blender, Iray and 3D Max, I have combined elements to make that toy I longed to have.
Image: Emma Silver, GI Joe 2016. Digital Print
Price: $1,200 – to purchase original artwork click here! To purchase an A3 giclée archival print, click here!
The winner of the inaugural Queer Art Prize Australia was announced on Friday 13 January 2017. An exhibition of finalists is currently on show at Chapel Off Chapel until Sunday 5 February 2017. For more information, visit: www.queerartprize.com.au for details.
Queer Art Prize Australia (QAPA) is an initiative of the Australian Pride Network – ABN: 52 551 990 041
Copyright © 2017 Australian Pride Network