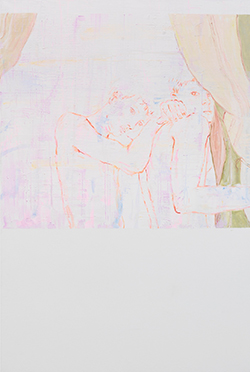 Artist statement:
My work focuses on identity, sexuality, memory and displacement. It informed by my experiences as a homosexual person from Middle-East and stories and memories of the homeland I was forced to leave.
Through this auto-ethnographic approach and in the making of artwork that considers personal and collective experience and investigates the effects of displacement, homosexuality, trauma and memory, I provide a vehicle not only for myself but also for other displaced people especially those from LGBTI community to consider themselves other than victims of dispossession and injustice. Rather, that they are empowered through our shared history and experience, in celebration of our 'otherness'.
My work embraces the depths of the emotional painted surfaces, which through their loosely painted layers offer insight into the tension between the internal and external worlds we all negotiate. It bridges the gap between emotion and the conceptual, and shows how painting and installation draw on the past with an active personal-political position that can be entirely contemporary and engaging.
Image: Elijah. A, Behind the curtain 2016. Acrylic, wax and oil colour on canvas (120 x 190 × 4cm)
Price: $1,970 – to purchase original artwork click here! To purchase an A3 giclée archival print, click here!
The winner of the inaugural Queer Art Prize Australia was announced on Friday 13 January 2017. An exhibition of finalists is currently on show at Chapel Off Chapel until Sunday 5 February 2017. For more information, visit: www.queerartprize.com.au for details.
Queer Art Prize Australia (QAPA) is an initiative of the Australian Pride Network – ABN: 52 551 990 041
Copyright © 2017 Australian Pride Network