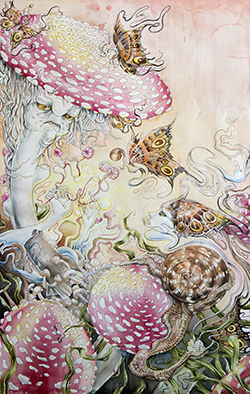 Artist statement:
Eduardo Wolfe-Alegria's practice functions as a personal expression of unconscious imagery, whilst simultaneously investigating art-historical tropes of the fantastic and the grotesque, deriving from the Rococo, Symbolism and Surrealism.
He is also interested in low brow manifestations of fantasy ranging from the Golden Age of fairytale illustration and the Art Nouveau, the psychedelic art and illustration of the 1960's and 70's and 1980's fantasy art and illustration.
This investigation culminates as a kind of  'psychedelic surrealism', in which he aims to evoke hallucinogenic worlds, spaces and scenarios which problematise human/animal/plant/object hierarchies and that highlight the ever-changing nature of our physical and psychological experience.
He is also interested in the incorporation of excessive detail and ornamentation in his works, the perceived gendering of ornament and its potential political function as a queering device within contemporary practice.
Image: Eduardo Wolfe-Alegria, The Conjuror, 2016. Pigment liner and watercolour on paper (90 x 130cm)
Price: original artwork – Not for sale! To purchase an A3 giclée archival print, click here!
The winner of the inaugural Queer Art Prize Australia was announced on Friday 13 January 2017. An exhibition of finalists is currently on show at Chapel Off Chapel until Sunday 5 February 2017. For more information, visit: www.queerartprize.com.au for details.
Queer Art Prize Australia (QAPA) is an initiative of the Australian Pride Network – ABN: 52 551 990 041
Copyright © 2017 Australian Pride Network