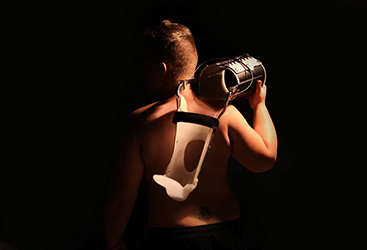 Artist statement:
Holding up is a performative photograph that encapsulates the relationship between identities.
I hold up my mother's calliper as a symbol of the need for others to support us, cultivating parts of our identity: acknowledging my role as a carer while also respecting my own identity and needs.
.
Image: Danica Knezevic, Holding Up 2016. Photograph (100 x 70.7 cm)
Price: $2,300 – to purchase click here!
The winner of the inaugural Queer Art Prize Australia was announced on Friday 13 January 2017. An exhibition of finalists is currently on show at Chapel Off Chapel until Sunday 5 February 2017. For more information, visit: www.queerartprize.com.au for details.
Queer Art Prize Australia (QAPA) is an initiative of the Australian Pride Network – ABN: 52 551 990 041
Copyright © 2017 Australian Pride Network