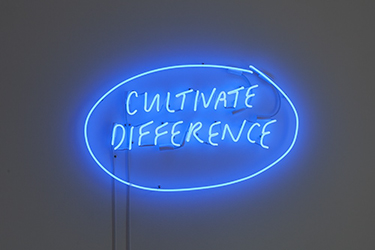 Artist statement:
Cultivate Difference is a call to action, a reminder to the artist of how she wants to live in this world.
.
.
.
.
.
.
.
.
Image: Courtney Coombs, Cultivate Difference 2016. Neon sign
Price: $4,000 – to purchase original artwork click here! To purchase an A3 giclée archival print, click here!
The winner of the inaugural Queer Art Prize Australia was announced on Friday 13 January 2017. An exhibition of finalists is currently on show at Chapel Off Chapel until Sunday 5 February 2017. For more information, visit: www.queerartprize.com.au for details.
Queer Art Prize Australia (QAPA) is an initiative of the Australian Pride Network – ABN: 52 551 990 041
Copyright © 2017 Australian Pride Network